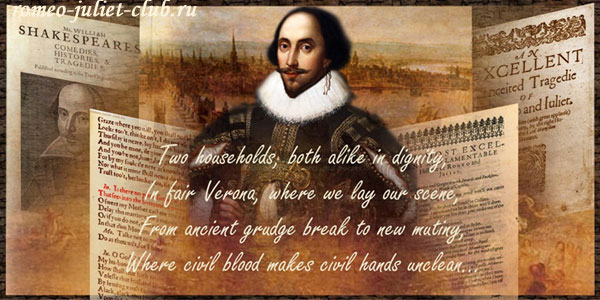 It's been rant posts for the past three posts and I apologize for that. I haven't been having the greatest time with finding things to give advice on, but I promise I will get out of this very strange funk soon.
Romeo and Juliet
is my favorite plays of all time and it was written by the ultimate word genius (to me), William Shakespeare. It's just an amazing formation of lovely words about a timeless love that only lasted about three days and left a body count of six people... With that being said, I love the story for the love affair and the gorgeous words (yes I am
fangirling
over words).
For my school's talent show (which is tomorrow 5/1), I have decided to perform the famous Juliet monologue from the second act (
O Romeo, Romeo!
) and it's so fun, but believe it or not, that's not my favorite quote or part of the play.
I really love the part in Act 2 when they are at Friar Laurence's cell and they are getting married and he says, "These violent delights have violent ends. And in their triumphs die, like fire and powder. Which, as they kiss, consume..." (
Romeo and Juliet Act 2 Scene 6
). I first read this quote when I read
Twilight
(this was over six years ago), but since then I have read
Romeo and Juliet
thousands of times and I've watched
William Shakespeare's Romeo and Juliet
so many times, more than I can count.
Most people don't like Shakespeare because they can't understand the way the plays are written, but personally, they are the most gorgeously written plays ever written. Yes, I can't really understand what is being said, but I can't really understand Spanish or French or Italian either, but that doesn't mean they can't be gorgeous languages for me. William Shakespeare wrote this play in 1597, so his language is different than what we speak today, it's old English.
For my freshman year in high school (2 years ago), I had to read it, which I gladly did because it's AMAZING!!!!!! And my teacher was confused when I knew what was going on in the conversations I had with him after class.